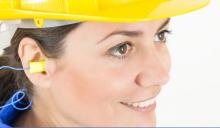 How do I insert a foam earplug?
Roll the earplug
Pull up and away on the top of your ear with your opposite hand
Hold the earplug after inserting it
How long can someone be in a loud noise before it's hazardous?
The degree of hearing hazard is related to both the level of the noise as well as to the duration of the exposure. But this question is like asking how long can people look at the sun without damaging their eyes.