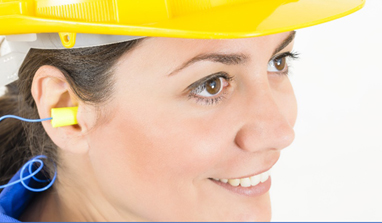 How do I insert a foam earplug?
Roll the earplug
Pull up and away on the top of your ear with your opposite hand
Hold the earplug after inserting it
How long can someone be in a loud noise before it's hazardous?
The degree of hearing hazard is related to both the level of the noise as well as to the duration of the exposure. But this question is like asking how long can people look at the sun without damaging their eyes. The safest thing to do is to ensure workers always protect their ears by wearing hearing protectors anytime they are around loud noise.
Can you poke out your eardrums with earplugs?
That is unlikely for two reasons. First, the average ear canal is about 1 1/4 inches long. The typical ear plug is between 1/2 and 3/4 of an inch long. So even if you inserted the entire earplug, it would still not touch the eardrum. Second, the path from the opening of the ear canal to the eardrum is not straight. In fact, it is quite irregular. This prevents you from poking objects into the eardrum.
I work in a dusty, dirty place. Should I worry that our ears will get infected by using earplugs?
Using earplugs will not cause an infection. But use common sense. Have clean hands when using earplugs that need to be rolled or formed with your fingers in order for you to insert them. If this is inconvenient, there are plenty of earplugs that are pre-molded or that have stems so that you can insert them without having to touch the part that goes into the ear canal.
Won't hearing protectors interfere with our ability to hear important sounds our machinery and equipment make?
Hearing protectors will lower the noise level of your equipment; it won't eliminate it. However, some hearing protectors will reduce certain frequencies more than others; so wearing them can make noises sound different. In cases where it's important that the sound just be quieter without any other changes, there are hearing protectors that can provide flat attenuation. There are also noise-activated hearing protectors that allow normal sounds to pass through the ear and only "turn-on" when the noise reaches hazardous levels.