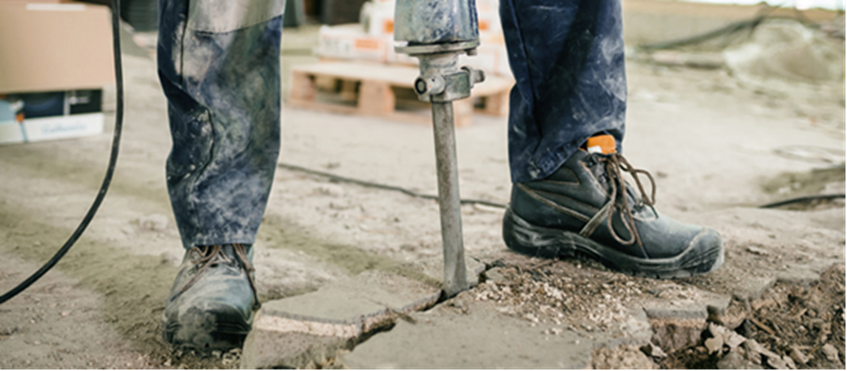 OSHA issued the final rule on June 23, 2016 that limits exposure to reduce effects of respirable silica. Construction Industry compliance is September 23, 2017 and General Industry and Maritime compliance is June 23, 2018.
Dust inhalation can cause lung disease, silicosis and other complications of the respiratory system. There are control measures that can be taken to help protect your health and safety when working with or around construction dust. Here are a few suggestions:
Saw Cutting, Grinding & Sanding Dust
Workers should be properly trained and wear the appropriate respiratory and other personal protective equipment (PPE) while on or near work activities that generate dust.
Water is commonly used in cutting or grinding stone, cement or rock base products that release dust into the air. Water-based dust suppression is the most cost effective solution.
Vacuum systems may also be used to collect dust generated by sanding, grinding, breaking or cutting of concrete, stone, pavement or other dust generating materials.
Excavation Dust
Water is a common option for protecting workers from excavations by watering down the exposed surfaces on a regular basis.
Dust Suppression Agents may also be an option, as they have been developed to require less frequent application of water.
Covering exposed surfaces with polythene or tarps are effective although this method is not practical in windy areas or for large areas.
General Building Construction Dust
Cutting wood releases particles (sawdust) that, unlike asbestos and silica, do not enter the lungs as easily. However, some products can generate very fine dust that can potentially be inhaled into the lungs.
Vacuum systems can capture the dust produced by the machine and secure it in a container for proper disposal. Use removable dust collection bags with industrial grade vacuum cleaners to assist the suction of dust. Sweeping the floor is normal and good practice however, this will allow fine dust particles to float back up into the air.
Vacuum power sanders will pick up dust from sheet rock, plaster board and paint sanding. Vacuum power sanders are very effective as they remove dust as you work.
Use this Construction Silica Standard flowchart to determine if you are working safely:
https://gallery.mailchimp.com/f5e8409210d7ceb65900fccc7/files/3cc58bff-7560-4f17-9f7c-0c1b2d3c8370/HazTek_Silica_Flow_Chart_033017.pdf
Utilize this Silica Awareness Tool Box Talk with your employees:
https://gallery.mailchimp.com/f5e8409210d7ceb65900fccc7/files/042b4644-f650-48ae-82b3-adb675728971/Silica_Awareness_Toolbox_Talk.pdf