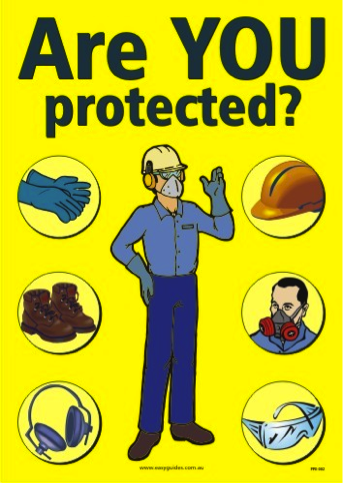 OSHA requires that employers protect their employees from workplace hazards that can cause injury. When engineering controls and safe work practices are not feasible or do not provide sufficient protection, employers must provide PPE to their employees and ensure it is used.
RESPONSIBILITIES
Supervisors:
Conduct a job safety analysis (JSA)
Ensure PPE is provided to employees and used properly
Employees:
Must utilize the provided PPE in accordance with the instructions and training provided.
Must inspect their PPE, properly care for and store their PPE, and attend training on the PPE.

COMMONLY REQUIRED PPE
Safety Glasses, Goggles, and/or Face Shield: Required when eye hazards or flying particles are present
Gloves: Required when cuts, lacerations, electrical, or chemical hazards are present
Hard Hats: Required when overhead and electrical hazards exist
Safety Shoes: Required when feet are exposed to crushing, slip, or electrical hazards are present
Work Pants & Shirts: Long pants and work shirt (minimum short sleeve) should be utilized on all work sites. NO CUTOFF SLEEVES!!!
Other PPE examples include: Respiratory, hearing, electrical, and fall protection. Hi-Visibility clothing. When selecting PPE, fit and comfort should be taken into consideration. If it fits and it is comfortable they will wear it. Employees who are required to use PPE must be trained in its use.