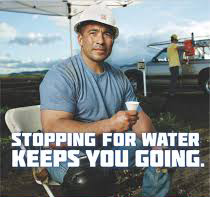 Water. Rest. Shade.
The work can't get done without them!
The body normally cools itself by sweating. During hot weather, especially with high humidity, sweating isn't enough. Body temperature can rise to dangerous levels if you don't drink enough water and rest in the shade. You can suffer from heat exhaustion or heat stroke.
In 2014 alone, 2,630 workers suffered from heat illness and 18 died from heat stroke and related causes on the job. Heat illnesses and deaths are preventable.
Employers must protect workers from excessive heat. Under OSHA law, employers are responsible for providing workplaces free of known safety hazards. This includes protecting workers from extreme heat. An employer with workers exposed to high temperatures should establish a complete heat illness prevention program.
Provide workers with water, rest and shade.
Allow new or returning workers to gradually increase workloads and take more frequent breaks as they acclimatize, or build a tolerance for working in the heat.
Plan for emergencies and train workers on prevention.
Monitor workers for signs of illness.

Click here for OSHA's Campaign to Keep Worker's Safe: https://www.osha.gov/heat/